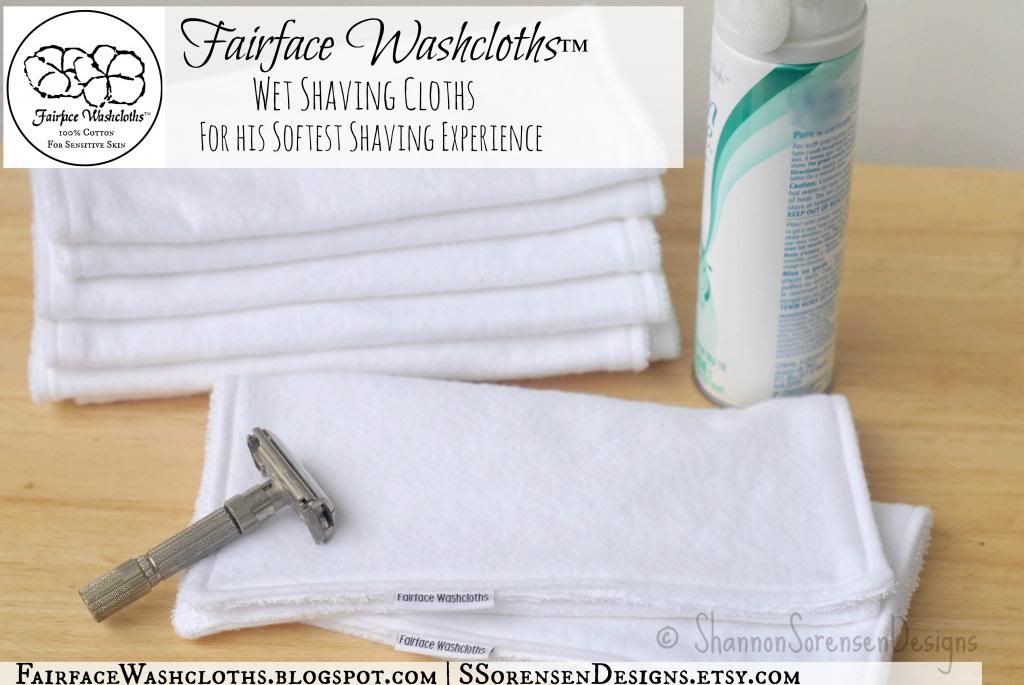 Men are the hardest to buy for, in my opinion. Women are much easier. We like pretty things and pretty things are easy to find.
But men? How many tools, pairs of socks or ties can you give a man?
This year, cater to his softer side, with a set of Men's Soft Shaving Cloths from
Fairface Washcloths™
- for a soothing and gentle shaving experience.
Does the man in your life dread shaving because it's irritating to his face?
Fairface Washcloths
™ are more than just the softest washcloths for sensitive skin, they are also the perfect set of shaving cloths for men.
With the new
Men's Shaving Cloth Set
from Fairface Washcloths™ with 1 Original Fairface Washcloth™ and 1 Delicate Fairface Washcloth™, he can use 1 for wet shave prep (shaving cream application & hot towel steam) and the other for a gentle, soothing finish.
Fairface Washcloths™ are
:
Made with a premium 100% soft cotton flannel and absorbent terrycloth
Available in Original (soft cotton flannel front and absorbent terrycloth back)
and Delicate (soft double-sided flannel)
Packaged in convenient sets of 2
Size XL 9"x9" for optimal coverage
Non irritating for sensitive faces
A review from one of our happy Fairface Washcloths™ shavers:
"As a man that wet shaves daily, I have always been in search of the perfect face towel. I have finally found it! Shannon Sorensen has developed a perfect towel to add to your shaving, The Fairface Washcloth. It preformed very nice in the pre shave beard preparation. The excellence showed up after the final cut. The softness of the towel was a major comfort to my face. Wet shaving is a wonderful experience & this towel is the embellishment of wet shaving! I'm very grateful for Shannon's work and plan to add at least a dozen to my collection. It would be great to see her towels in the top men's shaving stores! Those guys are missing out!!"

Give your man a little pampering this year.
Fairface Washcloths™ Men's Shaving Cloth Set
the softest facecloths for sensitive skin
He'll be glad you did.
---
Fairface Washcloths™ are an exclusive product from Shannon Sorensen Designs

TO PURCHASE:

visit our etsy shop location: Fairface Washcloths