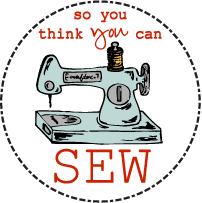 I have never entered a sewing competition before. It's my secret dream to be on Project Runway, or at least be in the audience. hahaha
But something about the
So You Think You Can Sew Contest
, from Mommy by Day Crafter by Night,
just looks like fun.
You can win some cool fabric and other goodies, and what kind of seamstress doesn't love fabric?? And other goodies??
There's still time for you to enter (closes Nov 30th). Find out more:
So you think you can Sew contest
. It's really easy to enter. Just find your favorite project that exemplifies your talent and click away!
I decided to enter my Heart Shag Pillow.
Fingers crossed I'll even make it to the top 12, in order to participate in the sewing challenges. :)
---
Never miss a post! Subscribe to ShannonSews
Like on facebook.com/SSorensenDesigns
Follow @ShannonSews1 on Twitter
Subscribe to youtube.com/ShannonSews